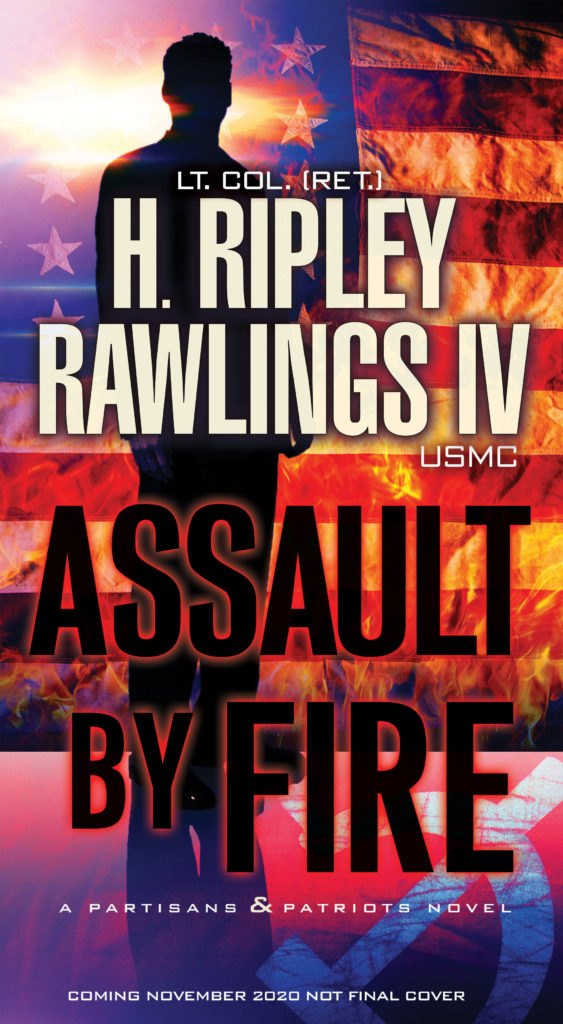 Release Date:
November - 2020
Contributors:
Lt Colonel Hunter Ripley Rawlings IV
ASIN:
B082WQRJLP
Buy the Book:
AMAZON
BARNES & NOBLE
BOOKS-A-MILLION
INDIEBOUND
GOOLE PLAY
KOBO
AUDIO VERSION IS HERE!
https://www.recordedbooks.com/title-details/9781980081005?fbclid=IwAR3YZiwu29V2z0C7VswhooJQJH1n9lGppooAhicL4HRw6_mPcpTLzjoXQ7M
In the rip-roaring tradition of Red Dawn and The Dirty Dozen, this action-packed thriller from Lt. Col. Hunter Ripley "Rip" Rawlings IV takes all-American patriotism to an explosive new level . . .
ASSAULT BY SEA
U.S. Marine Tyce Asher knew his fighting days were over when he lost his leg in Iraq. He thought he'd never see action again—certainly not on American soil—until the Russians attacked us by sea . . .
ASSAULT BY LAND
With so many troops stationed in the Middle East, the U.S. government is counting on Tyce and other reserve fighters to step up and defend their country—when Russian boots hit the ground . . .
ASSAULT BY FIRE
This is much more than a surprise attack. It is a full-fledged invasion orchestrated by a military mastermind hellbent on destruction. As the Russians move inland, killing and maiming, Tyce has to enlist every patriot he can find—seasoned vets, armchair warriors, backwoods buckshooters, even mountain moonshiners—to unleash their 2nd Amendment rights . . . on America's #1 enemy.
---
RAVES FOR ASSAULT BY FIRE
"Exploding with action, Lt Col Rip Rawlings's rapid-fire thriller, Assault by Fire, is a must read!"
—Mark Greaney, #1 New York Times Bestselling Author of One Minute Out
"Direct from his own combat experiences, Marine Lt Col Rip Rawlings brings the heat and fire to life."
—Marc Cameron, New York Times Bestselling Author
"Combat vet Rip Rawlings is a bang-up storyteller."
—Capt. Dale Dye USMC (Ret.), Author and Filmmaker
---
Excerpt
Spring, Fallujah Iraq 2004 and for U.S. Marine 1st Lieutenant Tyce Asher, the day is not flowers and parades, quite the opposite. An Iraqi mine blows him out of his Humvee, a sniper pins his men and before the day is through, he's fighting hand-to-hand with a knife wielding terrorist as a grenade ticks down somewhere nearby. His day looks to be improving when he polishes off the bad guy, but when the grenade rips his leg off, he reconsiders.