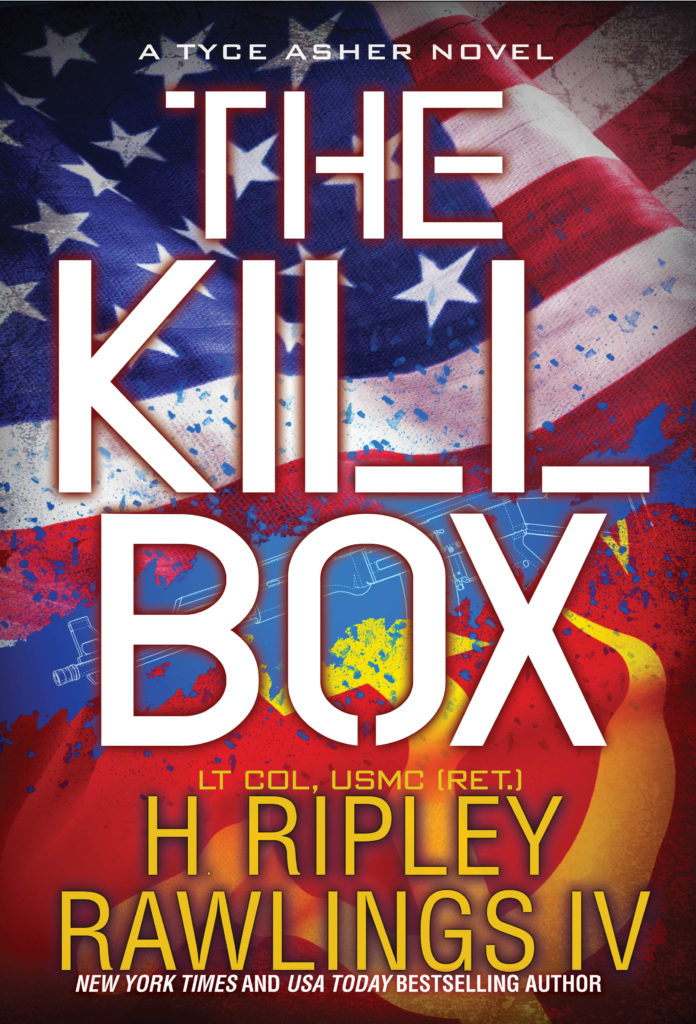 Release Date:
September 2021
Contributors:
Lt Colonel Hunter Ripley Rawlings IV, Rip Rawlings
ASIN:
B08RWBPKRX
Buy the Book:
AMAZON
APPLE
BARNES & NOBLE
BOOKS-A-MILLION
INDIEBOUND
GOOLE PLAY
KOBO
From New York Times and USA Today Bestselling Author

H. RIPLEY RAWLINGS IV
Lt Col, USMC (Ret.)
THE KILL BOX
A Tyce Asher Novel
The United States has been invaded. The Russians have seized control. Now US Marine hero Tyce Asher has one final mission—to make America free again—in this explosive series from Lt. Col. Hunter "Rip" Ripley Rawlings IV . . .
THE CITIES HAVE FALLEN.
America is under new management. Russian forces have occupied both coasts. They are taking our weapons, pillaging our resources, and destroying our nation. Those who resist are swiftly punished. Those who revolt are savagely killed . . .
THE HEARTLAND FIGHTS BACK.
Marine Corp officer Tyce Asher is a lone wolf patriot who will never surrender. He's assembled a ragtag team of long-haul truckers and citizen-soldiers willing to die for their freedoms. Their network has learned that the invaders are planning to seize cargo that will bring America to its knees—and a sadistic Russian has marked Asher for death. There is only one way to stop them: Asher and his team must meet the enemy face to face—and enter The Kill Box . . .
---
RAVES FOR ASSAULT BY FIRE
"Exploding with action, Lt Col Rip Rawlings's rapid-fire thriller, Assault by Fire, is a must read!"
—Mark Greaney, #1 New York Times Bestselling Author of One Minute Out
"Direct from his own combat experiences, Marine Lt Col Rip Rawlings brings the heat and fire to life."
—Marc Cameron, New York Times Bestselling Author
"Combat vet Rip Rawlings is a bang-up storyteller."
—Capt. Dale Dye USMC (Ret.), Author and Filmmaker
Visit us at www.kensingtonbooks.com
---
EXERPT:
            Ghost breath, the exhalations from a panting boy and his father, joined a morning mist swirling head-high in the cool spring air. The early-rising farmer and his son led a team of horses up from watering them at a creek and went about hitching them to a wagon's harness. A sound caught their attention. They dropped the tackle, looked up, and froze. A string of headlights was visible across the valley, making miniature halos in the fog. The farmers stood motionless and stared as the lights approached.
            It had been three months since Russia had seized the U.S. centers of power. Life in the rural reaches of America had changed drastically and, somehow, not at all. On the one hand, the markets were open, people were paying for and even stocking up on farm goods. But on the other hand, outsiders were showing up in increasing numbers in the valley.
            Sometimes, lone opportunists came through to steal food from the farms. Mostly at night. The fields were still barren from winter, but the grain silos were full, and every farm for miles around had healthy stocks of chickens, cows, and pigs. More recently, roving bands of displaced families had been through asking for handouts.
            Farmers and nearby townsfolk, who were mostly kin, anyhow, did what they had always done. From the Revolutionary War to the Civil War, through famines and the Great Depression, to the rationing of World War I and World War II—folks banded together. They watched over their own and their neighbors' property, and they locked and loaded.